Penzion Hotel Morrison
Pleasant and well priced accommodation in Pilsen since 1995.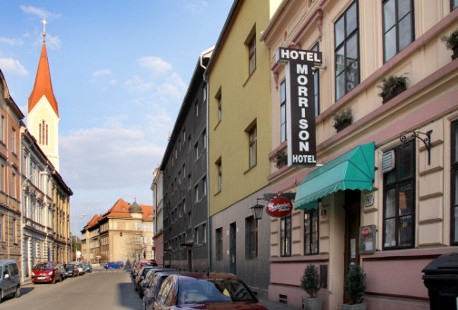 We are located in a quiet street only 10 mins walk from the city center, close to public transport and not far from the ice hockey stadium, Skoda Plzen, Borska pole industrial zone and Techmania.
At Morrison B&B we have 1, 2 and 3 bed rooms available, along with an apartment which can sleep up to 6 in two separate bedrooms and it also has a kitchenette. Up to 30 guests can be accommodated at the Morrison. All rooms are equipped with a bathroom which has a shower and toilet. There is also a mini fridge and satellite TV in the room. In some rooms we can add an extra bed or cot. Wi-Fi is available in all rooms free of charge.


The price for the room includes a buffet style breakfast. On request we can make a breakfast bundle to go. You can park for free on the street or in a secured parking lot for a fee. There's a covered terrace on the first floor for smokers. Apart from Czech we speak English, German and Russian.
We look forward to your visit!
Penzion Hotel Morrison
Thámova 9
301 00 Pilsen
Czech Republic
GPS: 49.73807, 13.36965
Reception is open till 10 p.m.,
later when pre-arranged
Breakfast
Mon–Fri: 7–9 a.m.
Sat–Sun: 8–10 a.m.